Hey guys!  Guess what I did again??? I did the Rugged Maniac Charleston again this year!  Mud runs are seriously one of my favorite things in the world to do and the Rugged Maniac always puts on a good race and such a fun atmosphere. It was at Boone Hall Plantation again this year and they have such a great spot for this type of event.
Remember my post last year when I did the Rugged Maniac Charleston and totally jacked up my body on the ninja warrior-like wall and slide and got the worst sunburn ever? yeaaaaa…. that race left me completely bruised and scraped up last year and to be honest I was a bit nervous to do it again.  I knew I had to face that damn wall again and this year I had to show that wall who's boss.
I also didn't make the same dumb mistakes as I did last year which were: wear shorts and plan my move into my new house for right after the race.  (What was I thinking?! Never again!)
Last year I just ran it with my boyfriend, but this year I wanted a crew.  We ended up having a group of 8 that we ran with and it was SO much more fun with a group.
Here's some of my Rugged Sqad before the race.
This year, Rugged Maniac added a bunch of new obstacles, most of which were inflatables.  I wasn't sure what to expect having inflatables in the mix, but they were fun!
Speaking of inflatables….my absolute biggest issue with the event the year before was the rough accelerator slide at the end of the course.  Remember from my last post….I tore up my back and butt BADDDD? Well after that race, I ended up reaching out to the folks at Rugged Maniac to let them know how myself and probably many others landed on massive rocks or concrete pieces at the bottom of the slide.  They never responded but hey..they must have listened because they had a new and improved slide this year.  YAY!  It inflatable and it went from being the worst part of the race to the highlight of the entire race for me this year!!
This was a picture of last year's accelerator slide..
Notice it was hard material and you ended up a pit of mud?  Yeah…. she gone!
Now it's inflatable and you end in a pool of water.  Yessssss. So much better.  Thank you for listening, Rugged Maniac!
I wanna ride down that thing like errrrrrrday!  Can I get one in my little back yard?
As far as some other obstacles worth mentioning….
The damn warped wall had been haunting me for the past year after my not so stellar performance last year (Remember…I think I jumped at the wrong time and felt like a bug splattering on a windshield when I ran into the wall like dead weight?? Yeah not my proudest moment haha).  
Well I TOTALLY REDEEMED MYSELF GUYS!!!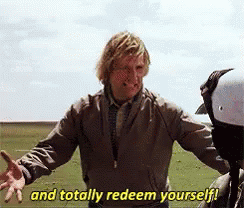 I made sure to get a good running start and jump up at the right time this year.  My boyfriend and other guy friend were there to help grab my hand, but honestly I think I may have been able to grab the top all on my own.  Such a good feeling 🙂
Here are some other new obstacles that rugged maniac added…or worth mentioning…
The Jump Start obstacle was a challenge because the bottom has nothing for you to step up on.  You have to reach up super high and user your upper body strength to pull yourself up (or use a friend).  I don't have a ton of upper body strength but I was able to grab a high wood beam and pull myself up enough to get my leg up.
This frog hop obstacle is worth mentioning because 7/8 people in my group had a tough time with it.  The trick is to jump to the center of each pad while running so they don't sway as much but the problem is, I think that can only be done if you're a guy and have really long legs.  I have long legs for a girl and tried it but by the time I got to the third box, my leg span wasn't long enough so it caused the whole front of the box to dip into the water and so I lost balance and slipped and jacked my other foot on the front of the box.  Wasn't fun.
If you want to see some ugly falls, stand around and watch this obstacle haha.
The ringer was back again…and guess what..I failed again.  I had no chance.
Not only are your hands wet and muddy, it takes a ton of upper body strength to do this.  I made it to the 3rd one and then landed 0% gracefully into the muddy cold water.
Once again I didn't get any good race pictures of me but here's a good one of the boyfriend doing an army crawl under the barbed wire.  He looks good…however there were about 10 pictures of me doing the army crawl but I just looked like a sloth in the mud so we will NOT be sharing those haha.
OK I lied..it's too funny not to post.  Look how "slothy" I look.  I laugh every time I see it.  Imagine having 10 of these pictures of me in a row and if you scroll through them fast..you see slothy erin crawling in action. hahhaha  I'm not exaggerating it's quite the sight to see.  I showed my coworkers my slothy slideshow and they were crying laughing.
Oh..side note..my tank-top was normal looking and tight when I started and all the water and mud made it turn into a long dress.  Not kidding.  It was almost down to my knees by the end – so make sure to wear a tank-top that handles moisture better.
Also, I'd HIGHLY suggest not wearing shorts because of all the crawling.  Capri workout pants were so much better than the shorts I chose to wear last year.
Here is a post race muddy body picture.  I obviously had my priorities right and went straight for my free beer.  
Hey..that's why we run these right? For the free beer at the end??
Afterwards we actually pulled up my friends truck outside the race where we could sit and tailgate and watch the other rugged maniacs attempt to climb the warped wall.  It was so much fun to watch with a cooler full of beer!  What a great spot for people watching!
Here's my adorable and bad-ass tailgating crew post race.
We came, we crawled and we ROCKED you, Rugged Maniac Charleston!
Annnnnd….another post run muddy picture of the rugged crew.
Overall I think it took us about an hour to get through the course together as a team.  We didn't take it too seriously but we also didn't really walk any at all.  Some of the obstacles just had lines and some took some people longer than others.  I would suggest getting an earlier heat time so the course is in better shape and the lines aren't as long at each obstacle.
It was SUCH a fun experience once again and I hope to do the Rugged Maniac Charleston again next year!!!
As always, hover over the image to Pin or share so you can remember to sign up!!!  These races are all over the country so wherever you live, I'm sure there's one near you!
Professional Pictures Source: Rugged Maniac