This is a sponsored post written by me on behalf of Clif Bar & Company. All opinions are 100% mine.
Are you stuck in a cubicle all day and just counting down the minutes until you can hit the gym and get your sweat on?  Do you hate that it seems like 70% of your awake hours are spent sitting at a computer sedentary?  This is the life I live as well, but have found many ways to add a bit of fitness into my day.  There are tips and tricks I've learned along the way that help to get a little workout in, even while AT the office!
CLIF has partnered with the sports nutrition expert, Bob Seebohar to bring us 5 Get Fit Tips for Everyday Energy. Bob has been a competitive athlete for more than 30 years, and he is one of the top sports dietitians in the country. He is also one of the first Board Certified Specialists in Sports Dietetics and is a Sports Dietitian for the United States Olympic Committee where he provides nutrition expertise for Olympic athletes.
First Tip: Fill, Drink & Repeat
Carry a smaller-sized water bottle (20oz or less), and drink it! Every few hours when you get up to refill, do 10 squats at the water cooler, and another 10 before you sit down at your desk.
Second Tip: Split Up The Work
Make a daily push up goal, and complete in blocks throughout the day. If your goal is 100 per day – do 25 when you wake up, 25 before lunch, 25 in the afternoon, and 25 before bed. Track them on a post it note or a smartphone so you have a visual of your accomplishment.
Third Tip: Energize Yourself
To ensure you have the nutrition energy to workout, carry healthy snacks and a few CLIF Organic Energy Food (COEF) pouches with you in your purse or gym bag. A COEF Oatmeal flavor provides pre-exercise energy to get you through a workout successfully. Each pouch us made from real food ingredients, inspired by the home recipes of Team CLIF BAR athletes. They are certified USDA organic which means non GMO and more!
The Apple Cinnamon Oatmeal and Banana Maple Oatmeal recipes offer breakfast inspired flavors and are the first portable oatmeal pouches crafted from real food ingredients athletes need for early morning adventures.
Fourth Tip: Strength Training Can Be Done Anywhere!
Strength training can be done anywhere!  If you have a chair, you can do squats…if you have a desk, you can do push-ups..etc.  If you have a gallon of water, you can do just about any free weight exercise you'd do with a normal dumbbell.  Getting in shape doesn't have to be expensive as long as you can get creative!
Fifth Tip: Pyramid Workout
Choose two upper body and two lower body moves For each exercise, start with 10 reps on your right and 10 on your left side.  Follow up immediately with 8 on each side, followed by 6, followed by 4 to completely fatigue your muscles.  Do not rest in between!
The pyramid workout should burn your muscles by the end.  If it's burning, it's working!
I'm personally a fan of Clif Builder's Protein Bar's because they are a great post-workout recovery option as they offer 20g of complete protein to help build and repair music, and are super tasty!
They come in a variety of flavors and are fortified with vitamins and minerals to support protein metabolism and has carbohydrates to help replenish energy stores and help get yo ready for your next workout.
Tip: Hover over the below image to share these 5 Get Fit Tips or pin it to remember for later!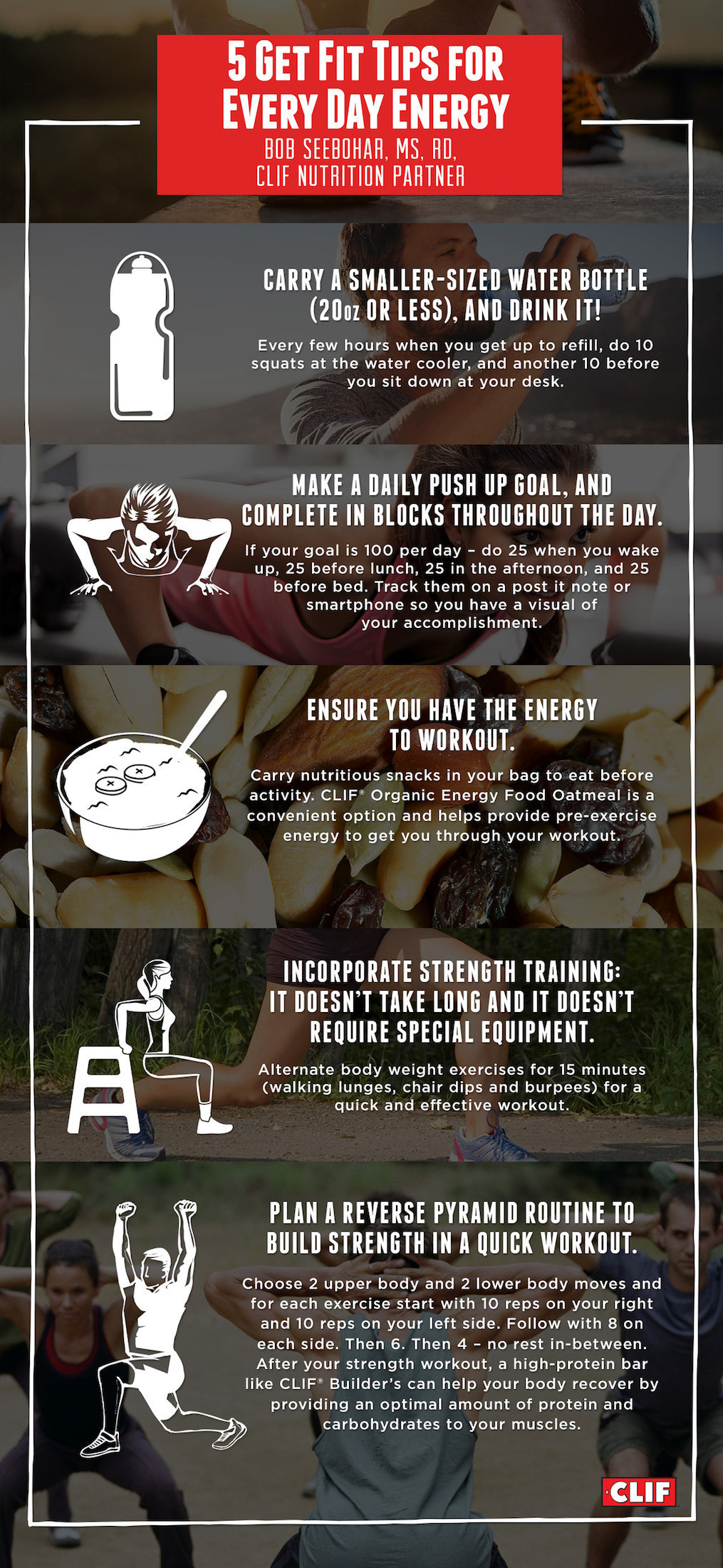 What did you think about these 5 Get Fit Tips? Do you have any other ideas on how to stay active during the work day? If so, leave a comment below!!!