I got my body fat tested last night for the first time since I did Jamie Eason's 12 week LiveFit program. I bought one of the calipers to test myself via skin fold testing, but I can never seem to do it accurately enough.  I really want to do a Bod Pod but I haven't done that yet. 
At the gym last night, I requested to have it tested. They had me stand on a machine where I took my shoes and socks off and I held on to two handlebars that stuck out from the machine.
It took about 1 minute for the machine to send signals up each area of my body and calculate the number.
In the end, I was told I had 20.3% body fat! I'm pumped about that 🙂
According to the American Council on Exercise (ACE).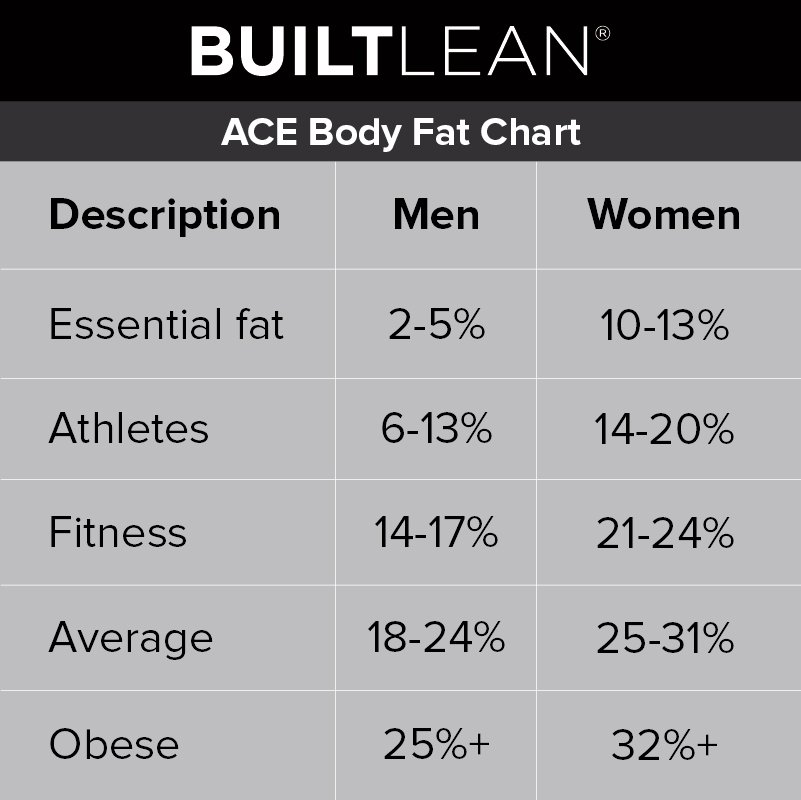 Looks like I'm just about at the "Athletes" level. That's so exciting 🙂
The only thing that my have swayed my result a bit was that I had just gotten done working out right before I got it read. I may have lost a little bit of water weight through that workout.
Here's what I rocked in the gym before my BF test…
I completed Days 18 and Day 19 from Lee Labrada's 12 Week Lean Body trainer.
| | | | |
| --- | --- | --- | --- |
| EXERCISE | Set #1 | Set #2 | Set #3 |
| Bent Over Barbell Row: 2 sets of 10-12 reps, 1 set to failure |   |   |   |
| Underhand Pulldowns: 2 sets of 10-12 reps, 1 set to failure |   |   |   |
| Barbell Deadlifts: 2 sets of 10-12 reps, 1 set to failure |   |   |   |
| Alternating Dumbbell Curls: 2 sets of 10-12 reps, 1 set to failure |   |   |   |
| Preacher Curls: 2 sets of 10-12 reps, 1 set to failure |   |   |   |
After lifting, I hit the treadmill and did 20 minutes of HIIT sprints at 10mph. I did 10 minutes in a 30 second split (30 second sprint, 30 second off machine). I then did 10 minutes of 45 second sprints where I would sprint and then walk at 3.7 until my heart rate got down to about 160. When my heart rate decreased, I would sprint again. For the last 8 minutes, I jogged around 5.5mph. It was a good 30 min workout! <3 HIIT!
Here's a look at my clean eating from yesterday. Usually I'm really terrible at eating clean all day, but yesterday I did pretty well!
Breakfast: 2 pieces of whole wheat toast with natural peanut butter.
Snack 1: almonds
Lunch: egg white & ground turkey scramble. 1 rice cake.  ( I know it looks terrible and please excuse the fancy China I used!)
Snack 2: 1 rice cake & protein shake.
Dinner: Turkey & veggie salad.  1 sugar free jello pudding. Yum!
I'd say I had a very healthy day yesterday and I'm damn proud of myself for it! Let's hope I can have another success today!
Do you regularly get your body fat tested? If so, how often do you like to get it tested?
I like to get mine tested every several weeks to make sure I'm meeting my goals and staying on track.